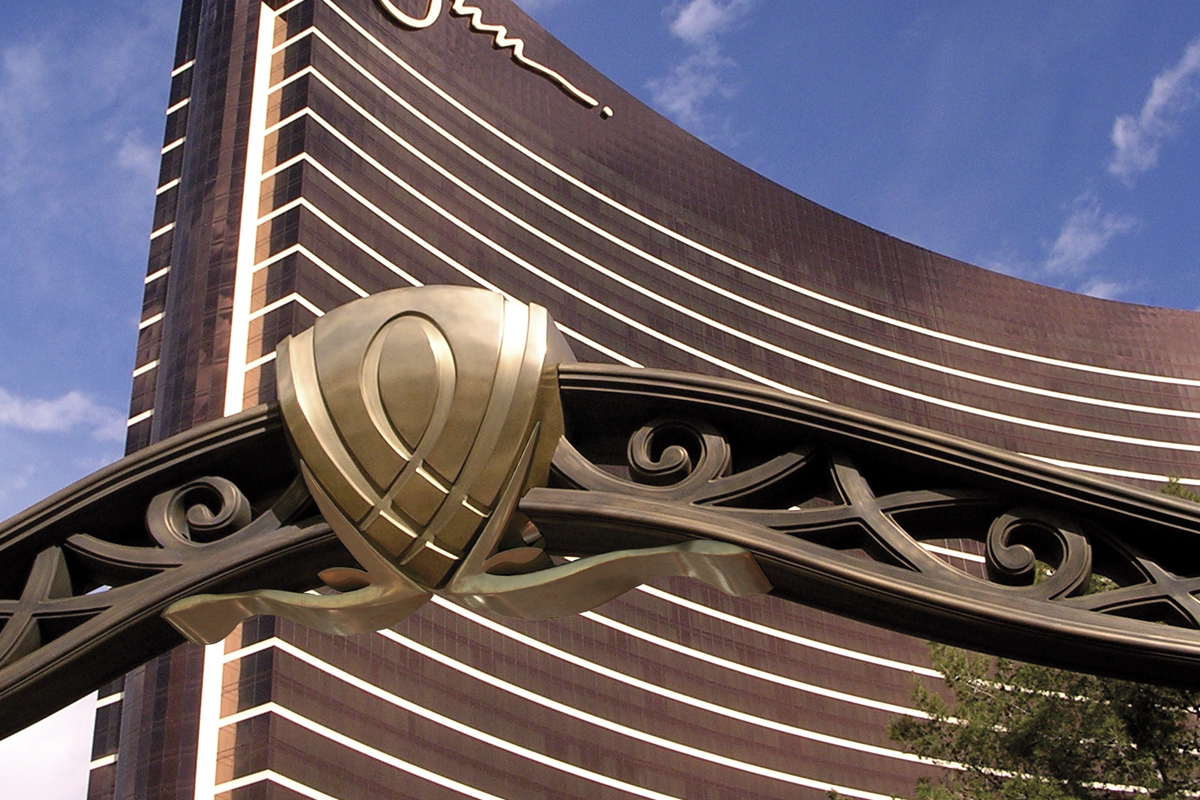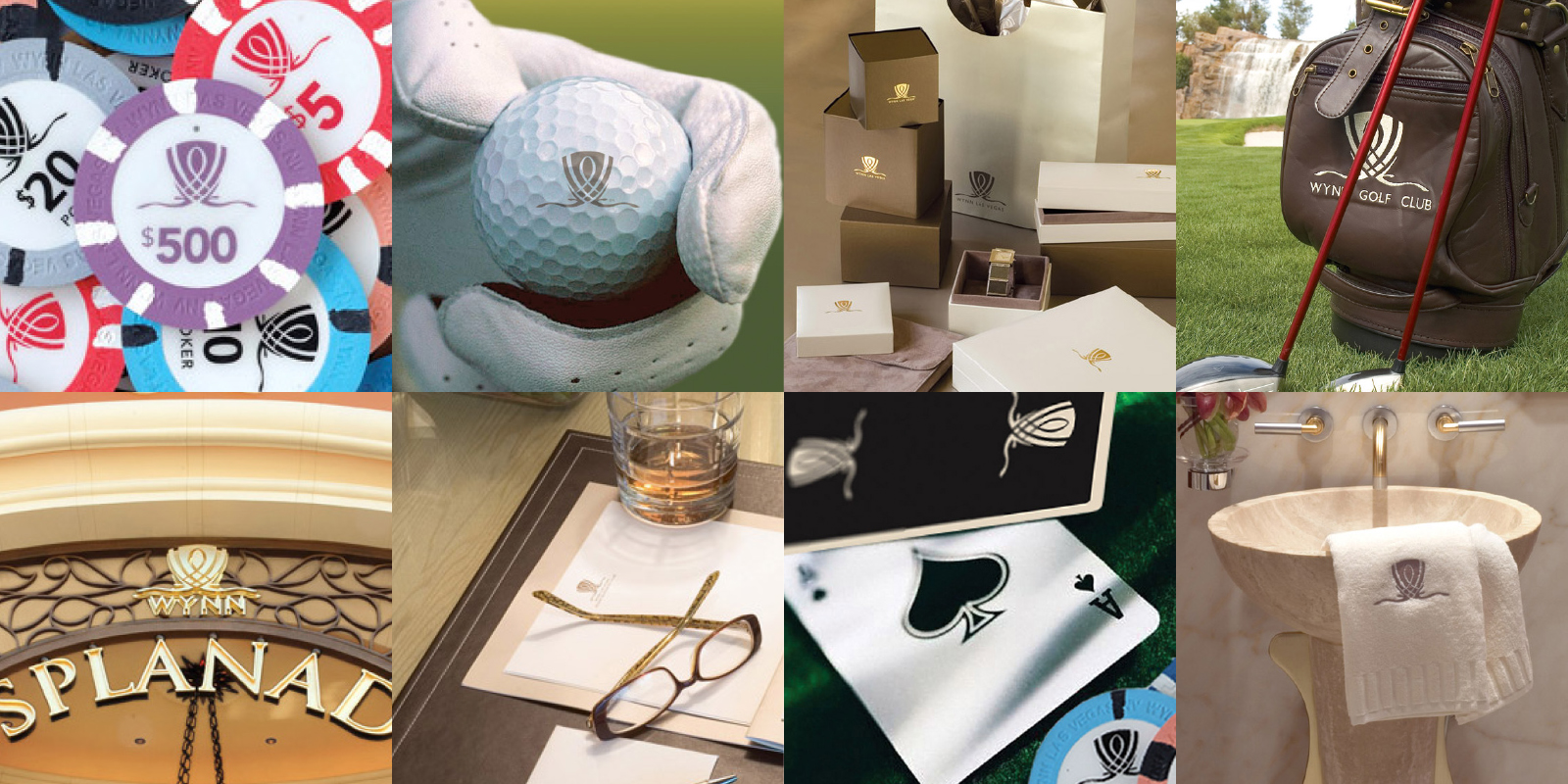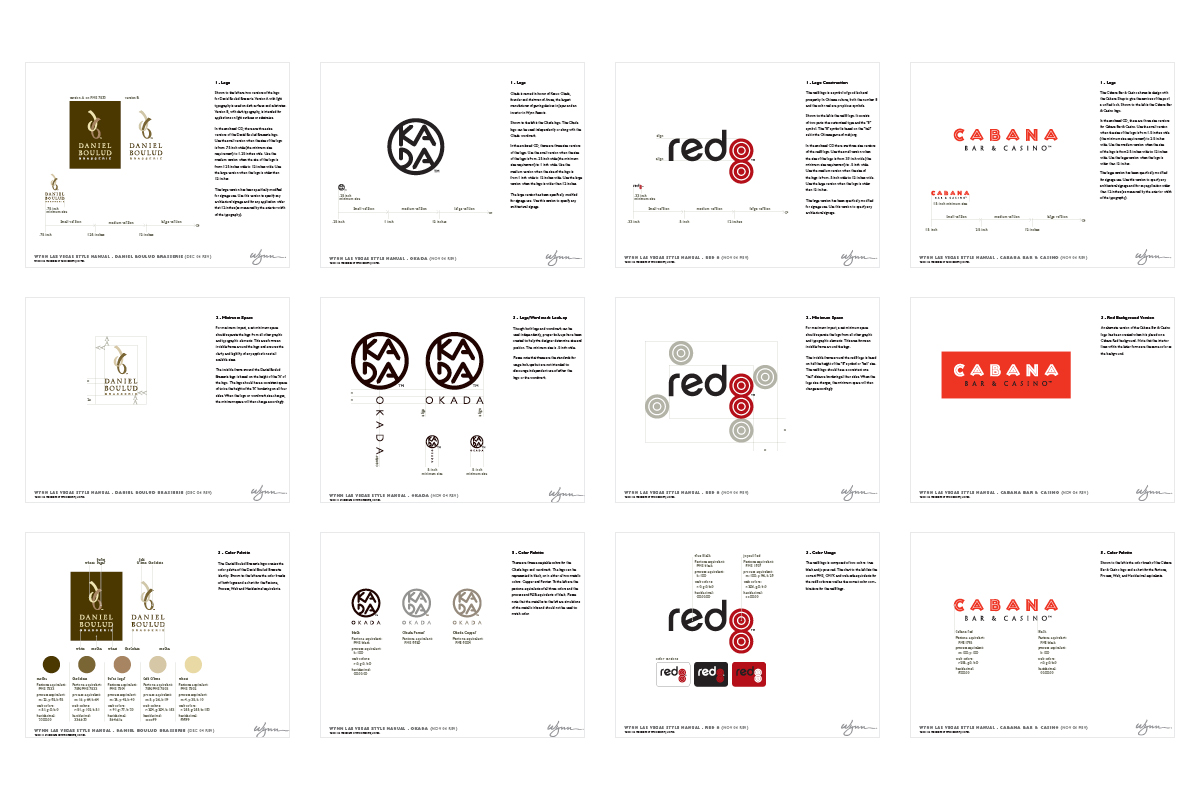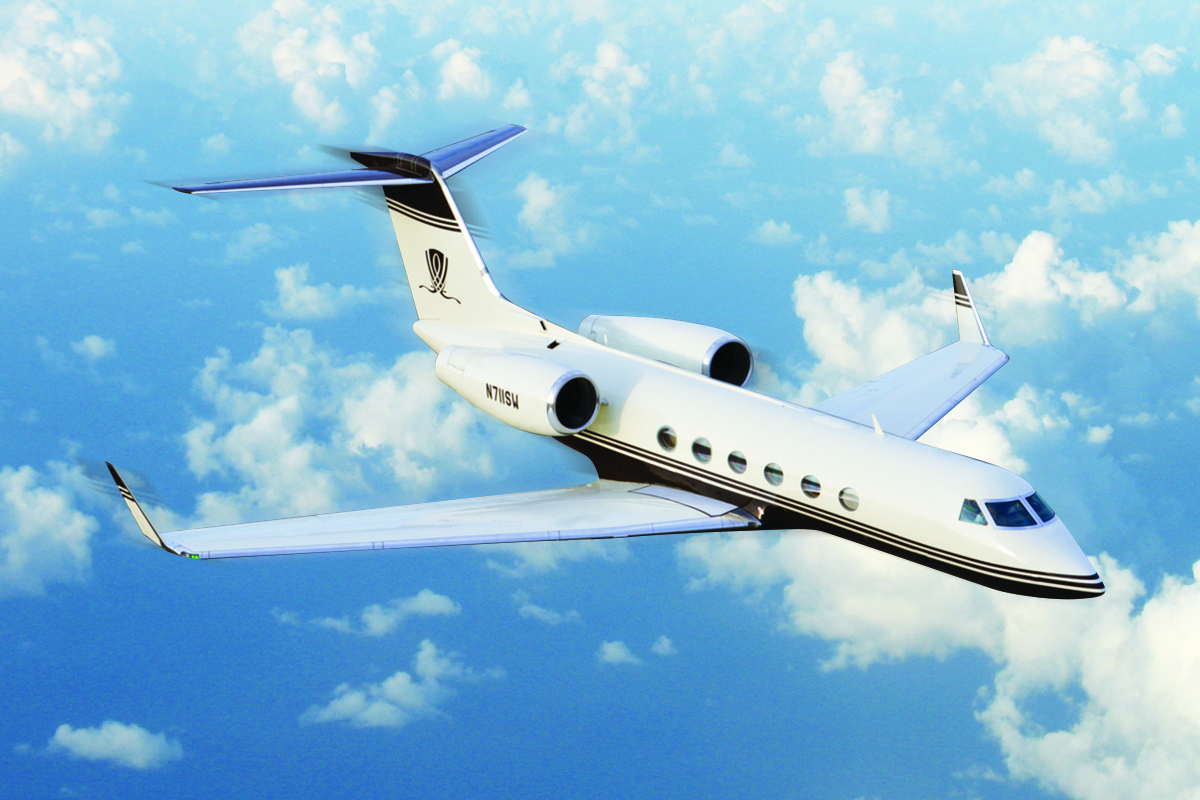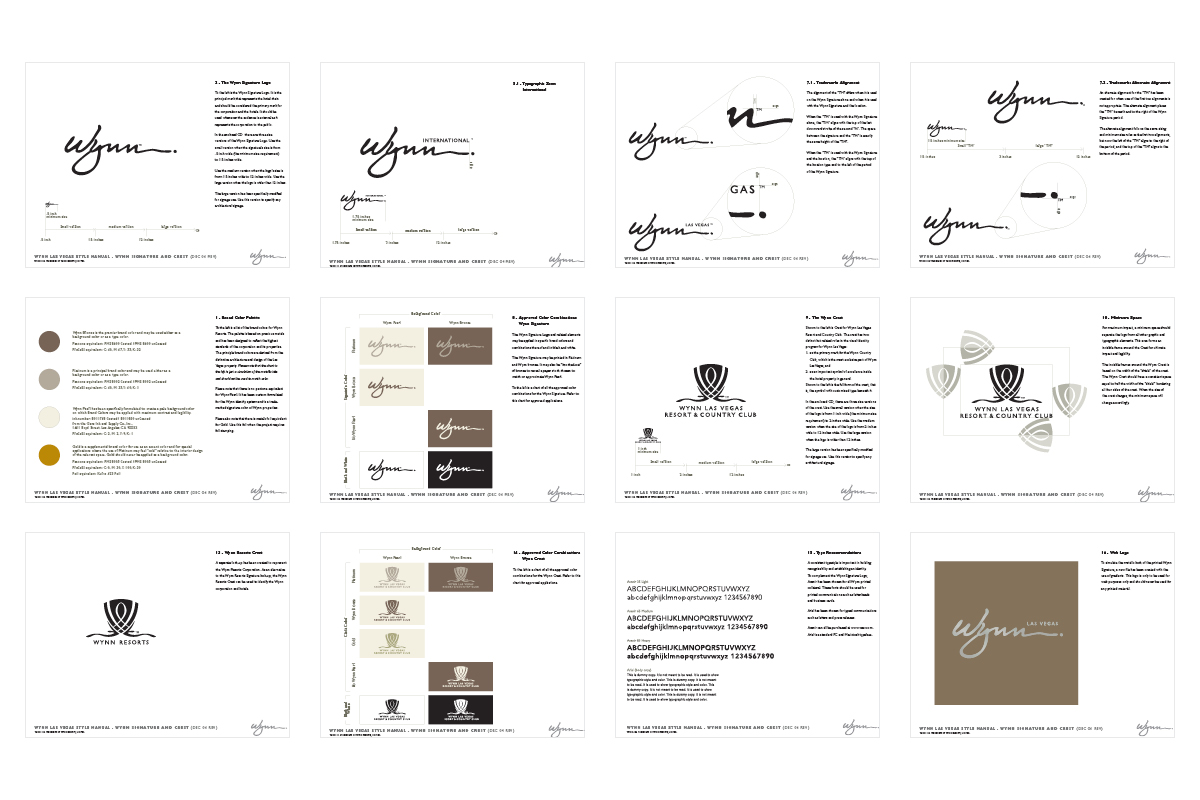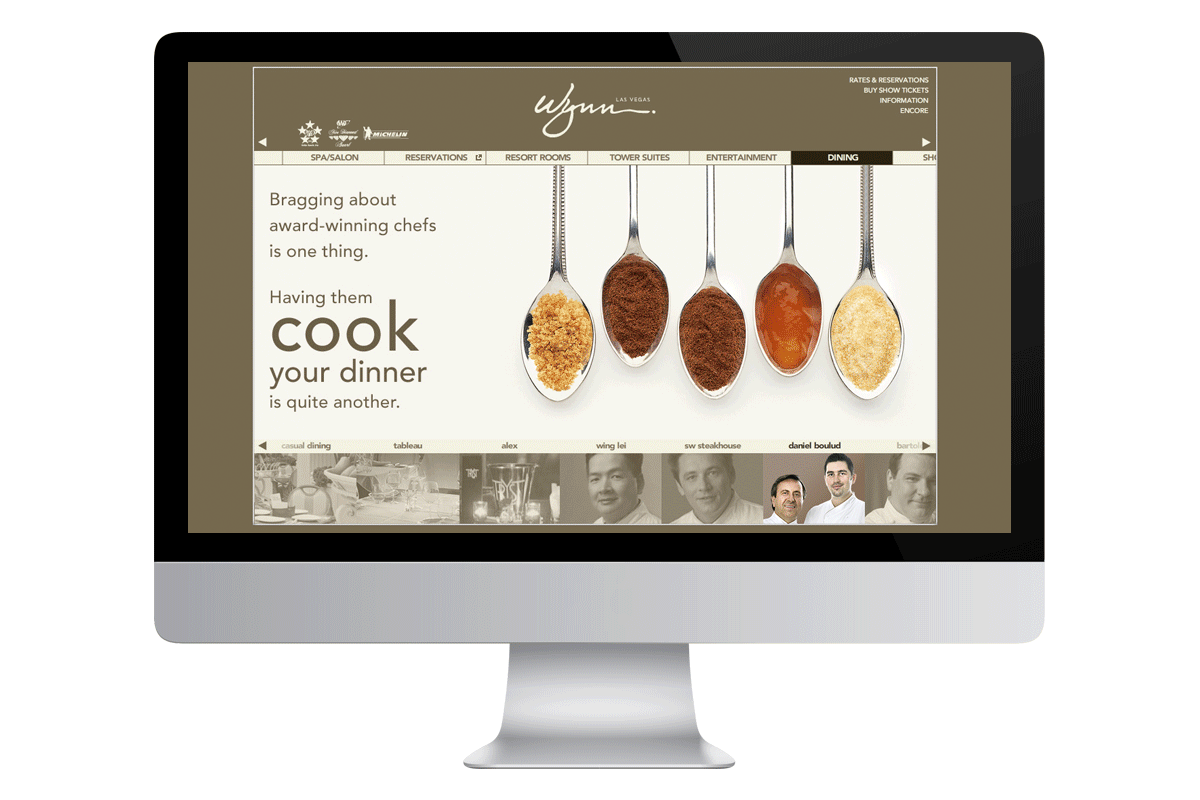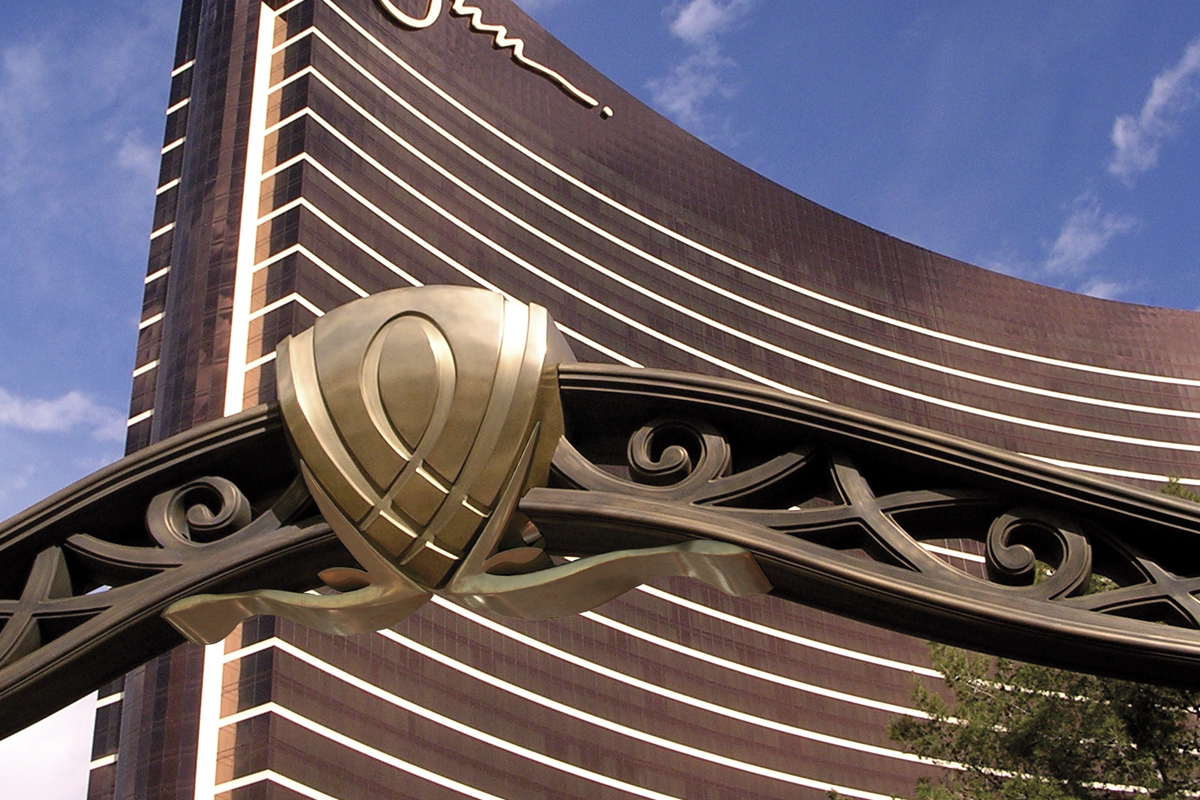 THE WYNN LAS VEGAS HOTEL & CASINO
The Wynn Crest is the most beautiful and meaningful icon I have designed. It is a modern symbol of old world luxury representing Steve Wynn himself; moreover, its Arabesque curves connote the buildings panoramic structure and the graceful cambers found in the architecture of the property.
Agency: slover [AND] company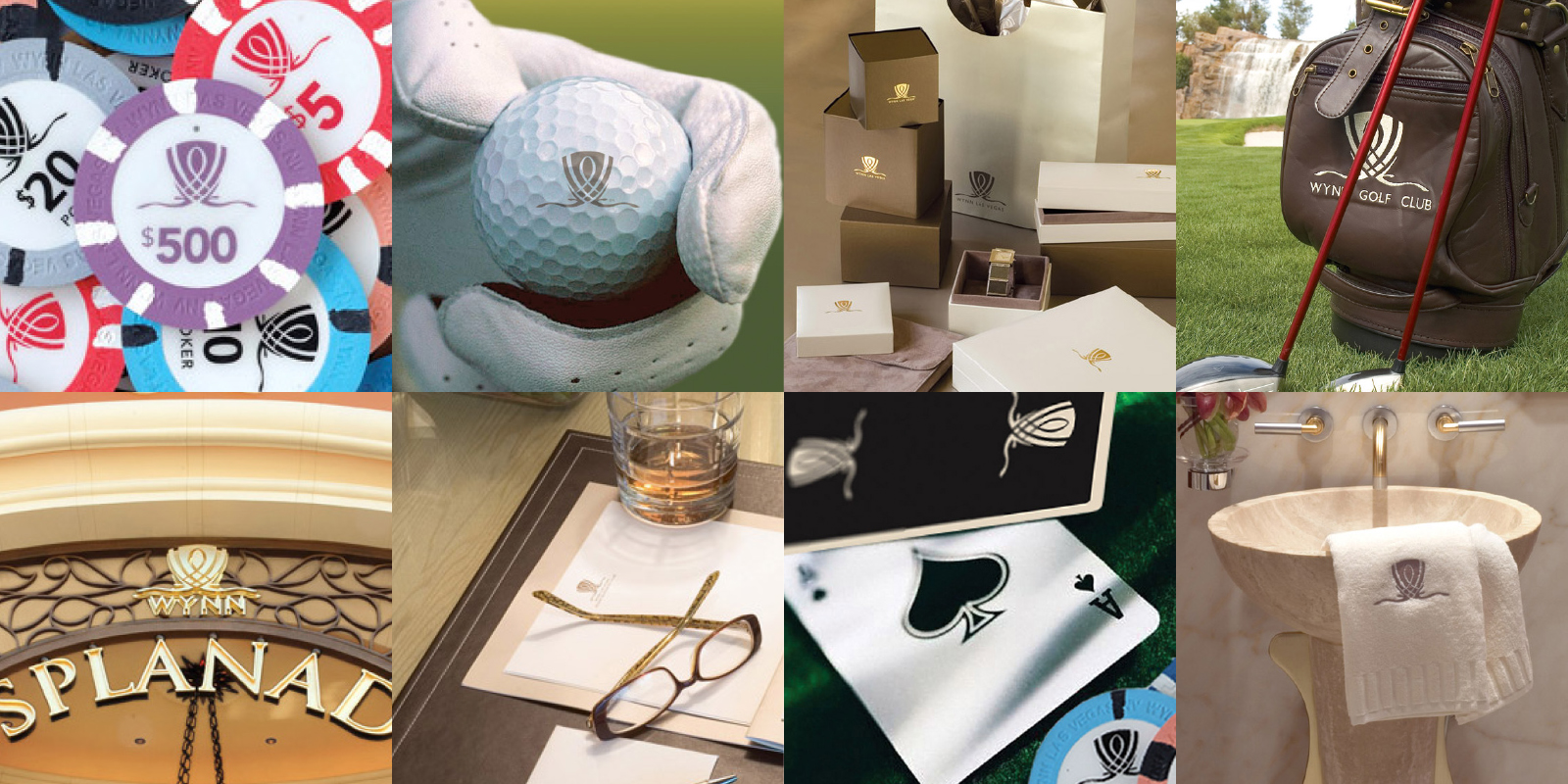 THE WYNN CREST
The crest was used throughout the property on items such as the casino chips and playing cards. It was also used to identify the country club, golf course, and parts of the retail esplanade.
Wynn shopping bag and box packaging by David Allegra
ALEX LOGO AND SIGNAGE
The flagship restaurant was named after the head chef Alex Stratta.
DB BRASSERIE LOGO & MENU SYSTEM
The simple paper menu system was perfect for Daniel Boulud's relaxed brasserie atmosphere.
CABANA BAR & CASINO LOGO & SIGNAGE
Along with many logos developed for this project, signage also had to be designed and specified. The logotype for the poolside bar and casino reflected the playful nature of gambling, drinking, tanning, and swimming at the same time.
RED 8 LOGO
The "8" of the Red8 logo was inspired by symbols from mahjong tiles and gave a unique look to Wynn Las Vegas' Chinese bistro.
OKADA LOGO AND SIGNAGE
Designed to resemble a Japanese pottery mark, the Okada logo lent itself to very interesting interpretations for signage and restaurant collateral.
SW STEAKHOUSE LOGO
The Steakhouse at Wynn Las Vegas was named after Steve Wynn himself. The logo was blind de-bossed on the post and screw bound leather menus which gave the illusion that it was branded.
Menu design by Amy Gorrek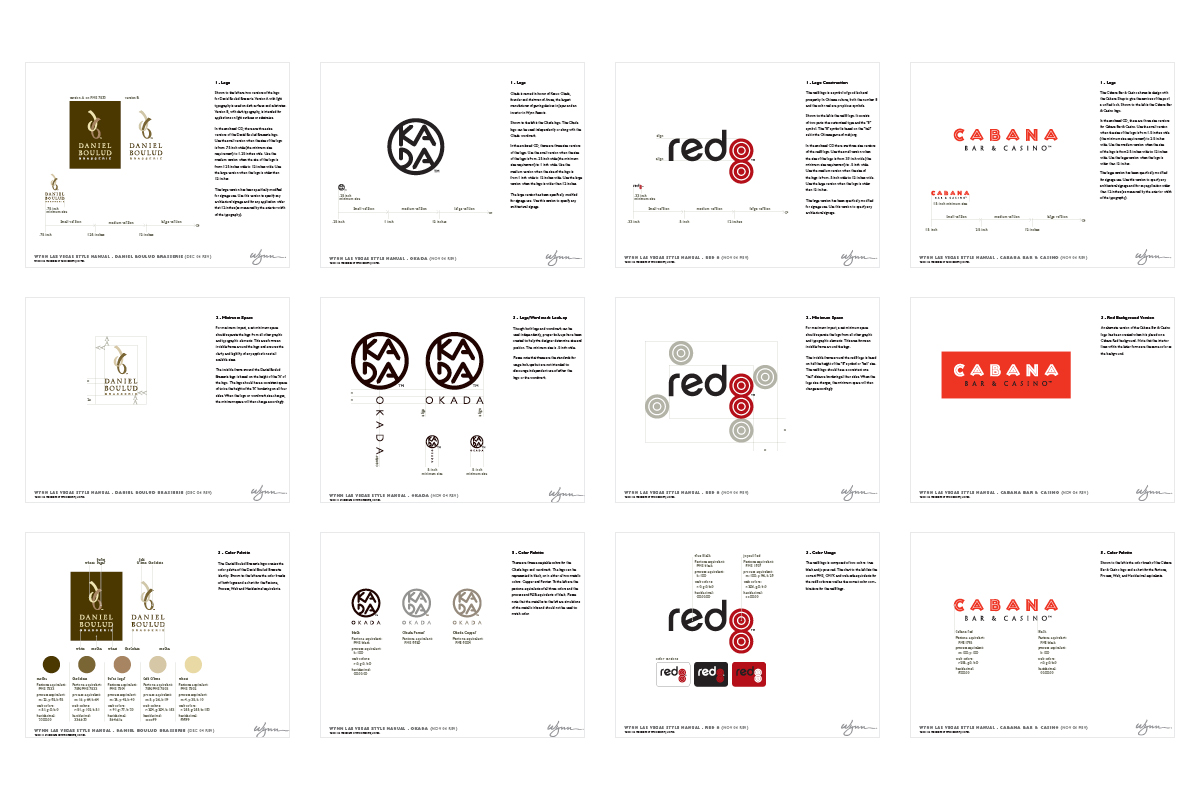 RESTAURANT IDENTITY MANUALS
Each individual restaurant and shop on the hotel property had an simplified identity manual developed to help the managers create any new graphics.
DESERT BAMBU IN-ROOM AMENITIES LOGO
The Wynn Hotel had its own custom bath amenities developed for the room and for sale at the Wynn store in the shopping esplanade.
Packaging developed by Saskia Mehl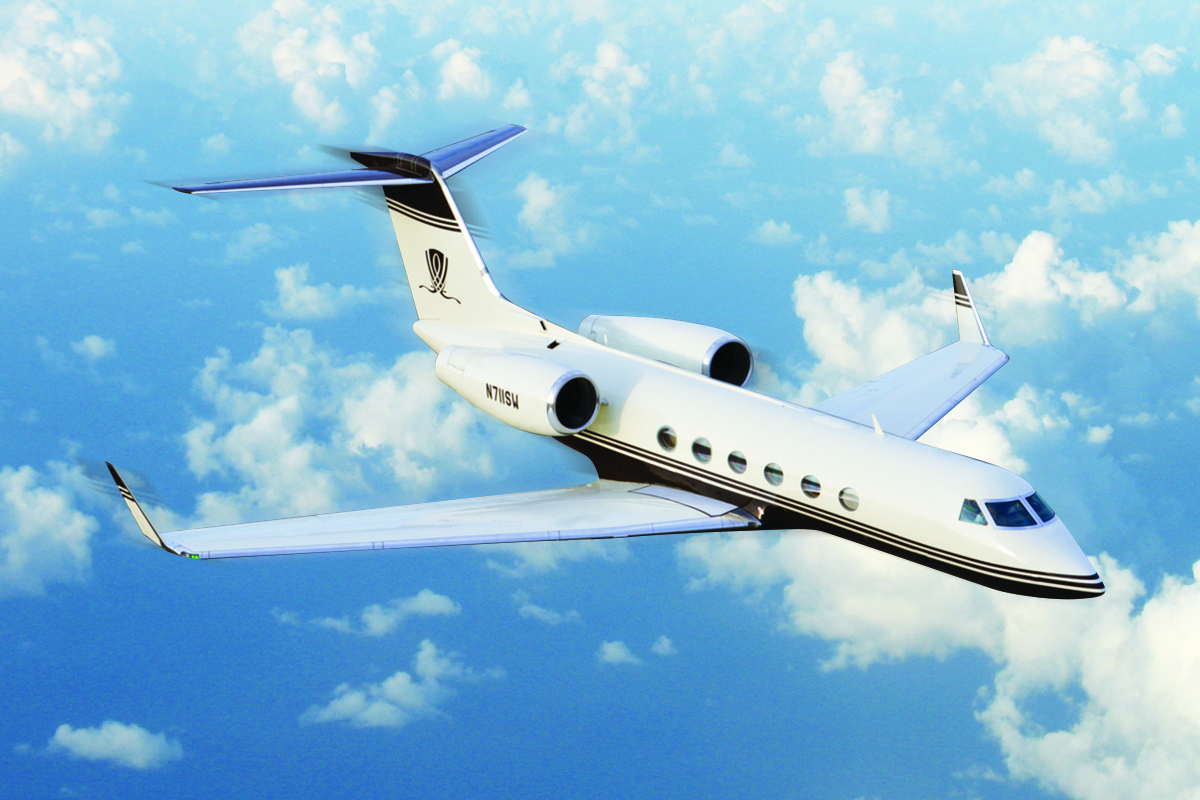 STEVE WYNN'S PERSONAL JET
Steve Wynn used the crest on many of his personal items. One of which was his personal Gulfstream G5 jet. Custom paint colors were developed to match the colors of the hotel. The cheat lines also mimicked the lines of the crest and the hotel.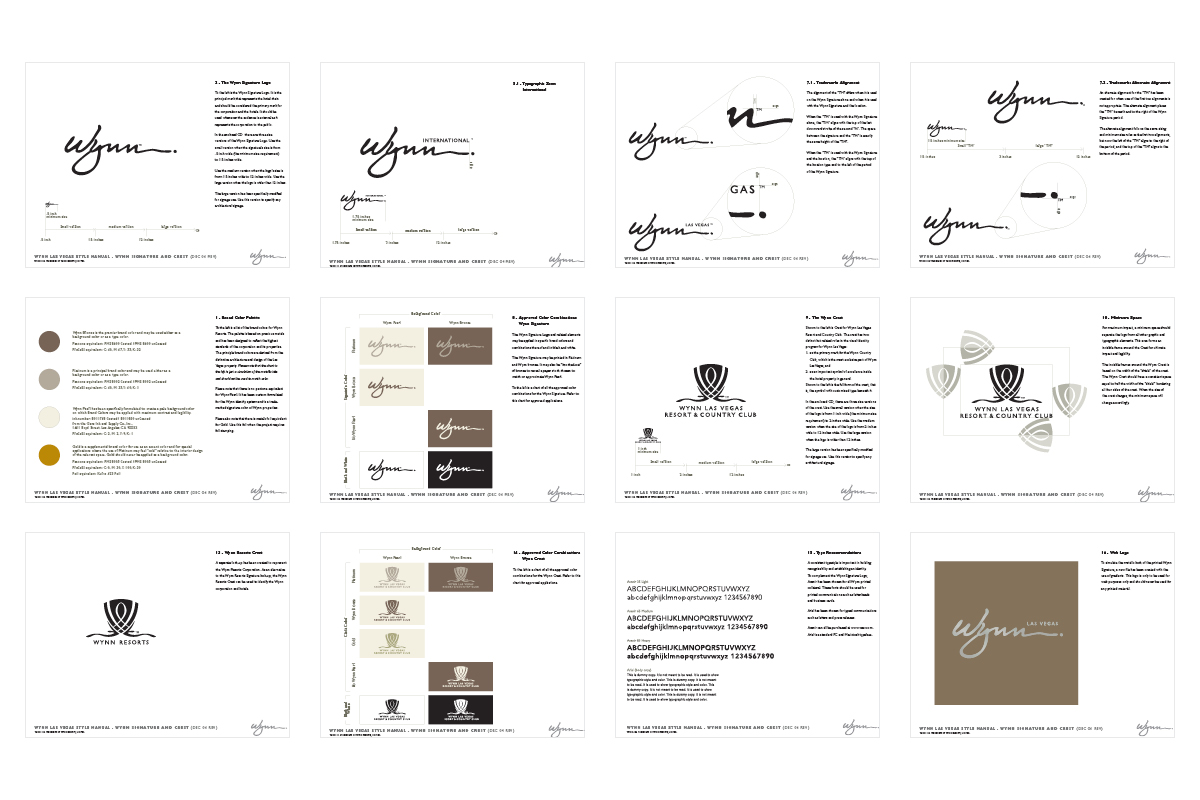 SIGNATURE AND CREST IDENTITY MANUAL
As the first of many international properties to be developed, the graphics of the Wynn Hotel & Casino in Las Vegas set the precedent. The identity manual was the resource to design new graphics for the Monaco and Macau properties.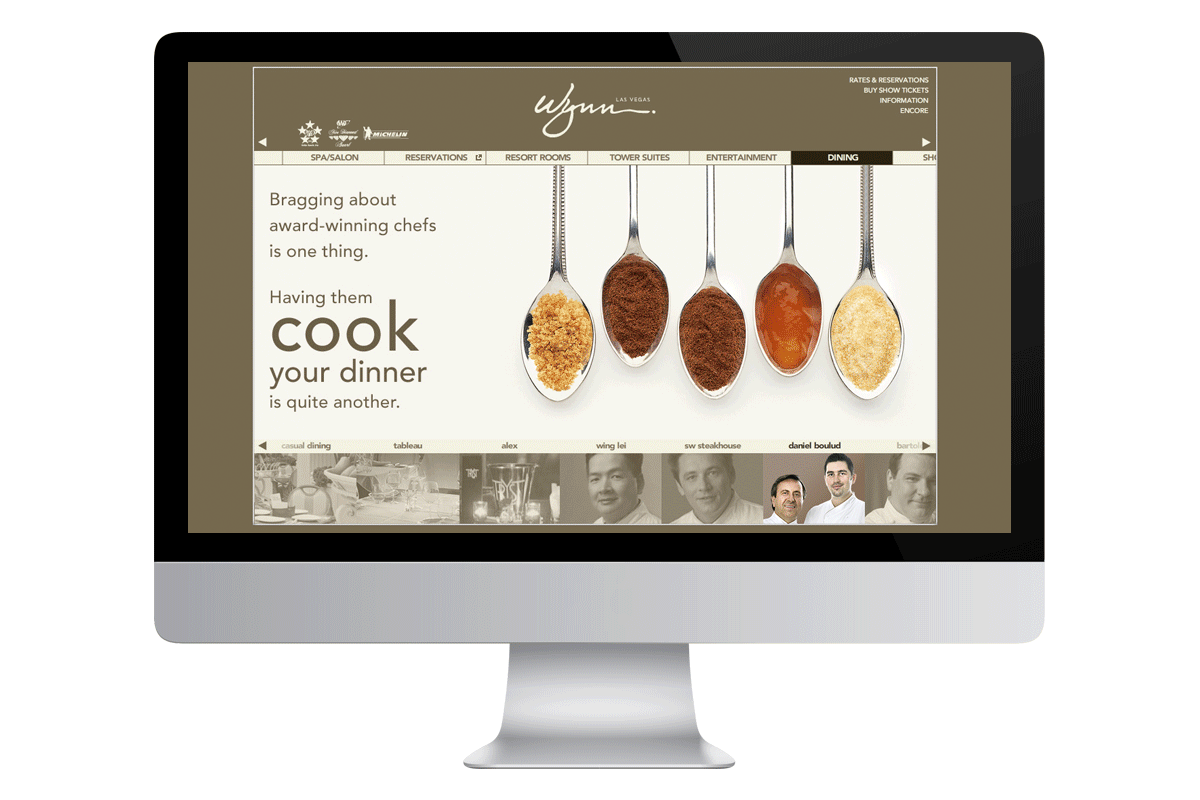 THE WYNN WEBSITE
The original website was quite developed for its time. The Flash based website was panoramic like the hotel, featured a scrolling navigation, and featured video interviews with Manolo Blahnik, Daniel Boulud, Alex Stratta, and many others that help created the spirit of the hotel.
Co-designer: Karin Folmin